Refer a patient
Working together to provide excellent patient care
Whether you are another specialist, dentist or allied healthcare professional. Ashlow Orthodontics are pleased to accept both NHS and private referrals for orthodontic treatment. We value our relationship with dental practices and practitioners and we have and will always strive to provide the highest standard of communication and patient care.
NHS referrals are done through REGO Vantage system.
Your patients will be treated with respect, dignity and care that you would expect. They will receive a comprehensive orthodontic report and literature outlining their treatment. They will also be encouraged to maintain their regular dental care and hygiene with yourselves.
As a referrer, we will ensure that you will be kept up to date and we will seek your approval where required for the best outcome of our patients.
No patient referred to our practice will be referred to another practitioner without both your own and your patient's consent.
Private referrals: We are happy to accept online private referrals using the form below, and we will be in touch as soon as possible.
If you are a dentist that is looking to refer patients to us, please download our referral form and send it to our practice. Our address is
Ashlow Orthodontic Practice, Ashlands Ave, Stoke-on-Trent, ST4 6BN.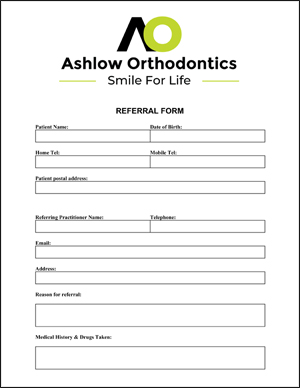 Click here to download our referral form